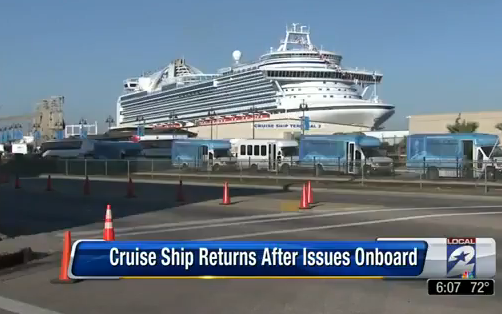 Hundreds of toilets not flushing on Crown Princess
Passengers on board the Crown Princess are upset after they said hundreds of toilets stopped working.
"I will never, ever, ever, ever cruise with Princess again, ever," said Sonya Flyer, a passenger.
As soon as Sonya Flye set sail on the Crown Princess, she quickly learned this would not be the care-free vacation she was longing for.
"By the bathroom, it was flooded, it was wet in the carpet," said Flye.
Some passengers could not use the toilets in their rooms for portions of the trip.
"It was quite an inconvenience," said Fonda Boyd. "If you had to get up in the middle of the night or even during the day, you had to go somewhere else to use the restroom."
During that time, public restrooms were available to passengers in the affected rooms while the problem was fixed.
"You had to go to the public restrooms and that would entail taking an elevator and walking a bit," said Boyd.
These problems come just a few months after the same ship had other issues. In December, over 100 passengers contracted a stomach virus. Those passengers came down with the Norovirus on the Crown Princess' 20-day transatlantic trip back from Venice Italy.
Shortly after that, in February, the Carnival Triumph was stranded at sea for 4 days after an engine room fire resulted in loss of power used to operate air conditioning, toilets, and kitchen equipment.
"It was disappointing and a big inconvenience, it made me second think about cruising," said Boyd.
With all of the recent cruise ship issues, some passengers said they won't be back. Officials with the cruise line told local 2, affected passengers were continuously updated about the progress of the repairs and will be provided compensation.
By Gianna Caserta, Click2Houston.com
For more cruise news & articles go to http://www.cruisecrazies.com/index.html
Re-posted on CruiseCrazies.com - Cruise News, Articles, Forums, Packing List, Ship Tracker, and more