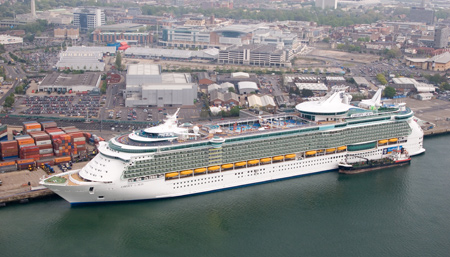 Royal Caribbean International has unveiled itineraries of Anthem of the Seas, their second Quantum-class ship that will measure at 167,800 gross tons and take 4,180 passengers. "It will offer 20 Mediterranean sailings beginning on 22 April 2015 before heading to Fort Lauderdale, Florida in the Autumn of 2015. The new itineraries on offer range from three to 16 nights with a strong focus on 'taster' cruises designed attract a new breed of British holidaymaker who hasn't previously considered a cruise holiday," the company said in a statement.
Due for delivery in Spring 2015 the ship, along with Quantum of the Seas, will be a dramatic leap forward for the cruise industry and introduce more game-changing "firsts at sea" such as a skydiving experience call RipCord by iFLY and the North Star, an engineering marvel featuring a jewel like capsule that extends 300 feet above the ocean and over the sides of the ship to deliver 360-degree views for guests. Cutting-edge transformative venues include SeaPlex, the largest indoor sports and entertainment complex at sea with bumper cars, roller skating and more; and the cruise line's largest and most advanced staterooms ever. These new, larger state rooms enable innovation in design, storage and comfort including the industry's first virtual balconies.
Stuart Leven, managing director, Royal Caribbean International, UK and Ireland, commented:
"The unveiling of the Anthem of the Seas itineraries is another major milestone in our exciting year. We have significant confidence in the strength of pent-up demand for the Royal Caribbean International holiday product from UK and Ireland. We will continue to work with agents to feed the demand for more of our cruise holidays, whilst developing our training, incentives and marketing programmes to generate interest from a new-to-cruise audience.
"Royal Caribbean is proud to offer incredible quality and value, rivalling all other holiday options available today. The facilities on-board Anthem of the Seas are simply 'wow' and incomparable to any other land or sea resort. All this, coupled with itineraries which appeal to guests who are new to cruise, equips agents more than ever with all the ingredients for driving interest among people who are new to cruise. We're confident that our partners will capitalise on this to maximum effect."
Holiday options from Anthem of the Seas during Spring and Summer 2015 include:
· Four 3-night taster cruises and one 4-night taster cruise calling at Bruges and Paris (Le Havre)
· One 7 and one 8-night France and Spain cruise calling at Bilbao and Paris (Le Havre)
· One 16-night Mediterranean Cities of Distinction cruise including Barcelona, Nice, Rome Seville and Lisbon
· Three 13-nights, one 10-night and one 12-night Sunshine in the Canaries cruise
· One 7-night Norwegian Fjords sailing
· Two 14-night Italian Mediterranean sailings
· One 14-night Spain and Mediterranean Beaches sailing including an overnight in Palma de Mallorca and a call into Ibiza, not departing until 8pm in the evening
Peak summer holiday cruises include the 14-night Italian Mediterranean cruise and the 14-nights Spain and Mediterranean beaches sailings to appeal to family travellers. In addition, the three-night taster cruise operating over August Bank Holiday weekend is expected to be popular.
A 14-night cruise on-board the new Anthem of the Seas sailing from Southampton starts from £1599 per person based on a July 2015 departure. The taster three-night cruises start from £449 per person based on a May 2015 departure.
Leven continues, "When Quantum of the Seas – the sister ship to Anthem of the Seas – is first launched in Autumn 2014 it will offer its first cruise from Southampton, departing on 2 November 2014. We plan to use this opportunity to showcase the facilities of a never- -before-seen Quantum class of ship to as many of our trade partners as possible. We know agents are excited about selling Anthem of the Seas and we expect a strong reaction, but the opportunity to see first-hand the incredible experiences on-board will be simply unbeatable."
Anthem of the Seas goes on sale on 3rd March 2014. The new Royal Caribbean International sales team is gearing up to blitz agents, and continue to build the hype and excitement that really only Royal Caribbean International can deliver. Agents should also look out for dedicated Anthem of the Seas agent training.
By Kari Reinikainen, Cruise Business Review
For more cruise news & articles go to http://www.cruisecrazies.com/index.html
Re-posted on CruiseCrazies.com - Cruise News, Articles, Forums, Packing List, Ship Tracker, and more