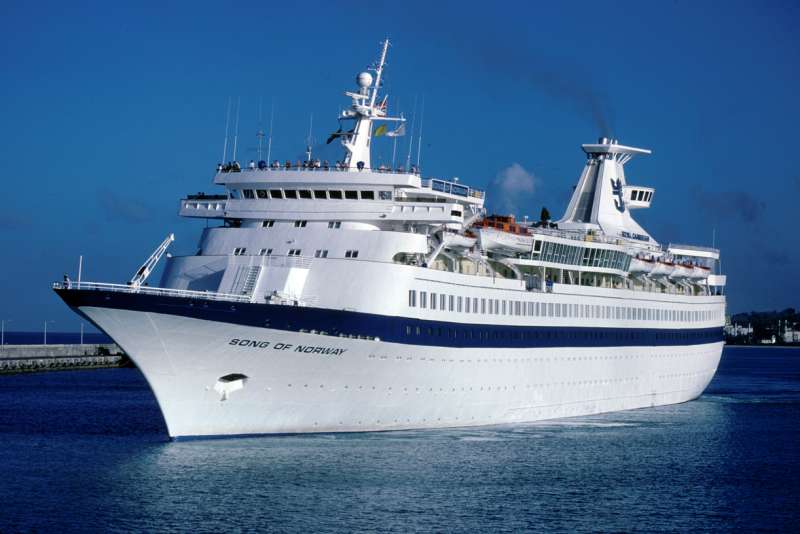 Formosa Queen, the 22,945 gross ton cruise liner that started life in 1970 as Song of Norway, has been reportedly been sold for scrap in China, reports in the shipping media say. It was the first unit in a trio of ships that launched Royal Caribbean Cruises Ltd's (RCCL) operation more than four decades ago.
The ship, which originally measured at 18,853 gross tons, was built at Wartsila in Helsinki, Finland. The design derived heavily on experience gained from the cruise ferry Finlandia that the same yard had built for a local owner in 1967.
Among the features adopted from Finlandia was the decision to locate the dining room amidships on the same deck with main public rooms, which also followed the layout adopted in the ferry. The ship's propulsion system that comprised four medium speed engines, coupled to two propellers, was another design feature adopted from Finlandia.
This arrangement allowed great deal of flexibility as the number of engines online could be adapted to power requirement at any given time. In addition, these engines were lighter and lower than slow speed engines that were used on many passenger ships at the time.
Song of Norway and Nordic Prince, the second unit of the class, which had been delivered in 1971, were lengthened from their original 168 metres to 193 metres at Wartsila at the turn of the 1970s to 1980s. The third unit, called Sun Viking that had entered service in 1972, was not lengthened.
All three ships have had a number of name and ownership changes after they were phased out from the RCCL fleet in the mid-1990s.
By Kari Reinikainen, Cruise Business Review
For more cruise news & articles go to http://www.cruisecrazies.com/index.html
Re-posted on CruiseCrazies.com - Cruise News, Articles, Forums, Packing List, Ship Tracker, and more