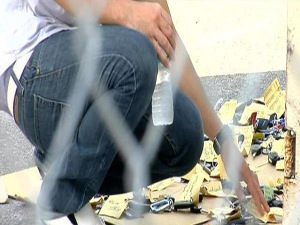 Dozens of cruise ship passengers were stranded in Miami after their car keys were lost after paying valets for three days of parking.
The passengers were greeted by a stunning site at the Premier Parking Ventures parking lot at Northwest 8th Street and 1st Court on Monday. Dozens of keys were strewn around the lot and dozens of people said they were not able to find their keys.
It was not clear what caused this confusion. Some passengers said they had heard that some valets were upset because they had not been paid and had intentionally misplaced keys.
"It's exhausting," said Maria Perez of Tampa. "Getting off a cruise after having a wonderful week and coming back and dealing with a headache of an unorganized, irresponsible and ridiculous company."
Perez told CBS4's Peter D'Oench, "We would like our car keys to get home to our families."
Perez and her friend Yvonne Fernandez told D'Oench they had been on the 3-day Aventura Dance Cruises to the Bahamas that left on Friday and returned Monday.
"I am unhappy because now I have to pay $400 to get my key copied because I have a computerized key," said Fernandez.
"So I am not happy. I will be visiting the corporate office at Premier Parking Ventures in Tampa when I get back and I will be looking for a refund and other stuff."
Perez and Fernandez had to leave their white Jeep Cherokee behind. Stranded passenger Scott Wierzbinski and his family from Stuart were not able to get into their silver Hyundai.
"I'm really upset," said Wierzbinski. "I want to get my car keys so I can go home. This is supposed to be a secure lot where cars are protected and safe and they were not."
D'Oench tried to get a comment from valets on the lot but he was told to contact the corporate office for the company and was told to leave the parking lot.
CBS4 made several calls to the company's corporate office in Tampa but was not able to reach anyone for a comment on this Veteran's Day.
D'Oench reported that there could be additional problems on Tuesday as additional cruise ship passengers will return to the parking lot.
By CBS4 Miami
For more cruise news & articles go to http://www.cruisecrazies.com/index.html
Re-posted on CruiseCrazies.com - Cruise News, Articles, Forums, Packing List, Ship Tracker, and more