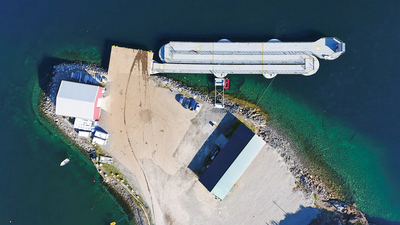 A floating pier developed for the fjords of Norway has started to catch on elsewhere, potentially creating new cruise ports worldwide, especially in small or cash-strapped destinations.
Called SeaWalk, the device comes in incremental segments linked by circular, floating pivot points. The head segment has a propulsion unit, and the pier can be motored into position when a ship calls.
The developer of SeaWalk recently reached an agreement with the Port Authority of Jamaica to build and install a pier that will be used to open a cruise operation at Port Royal, a historical town at the end of a peninsula near Kingston.
Port Royal was one of the busiest ports in the Caribbean in the 17th century until a massive earthquake in 1692 caused much of the town's waterfront to sink into the sand and disappear underwater.
Plans have been floated for decades to bring cruise ships to Port Royal but have been thwarted by the fragile ecology of the waterfront archaeological site, which would be disrupted by construction of a fixed pier.
With the SeaWalk plans in hand, the port authority was able to get approval for a port, which is expected to open in the first quarter of 2019. European cruise lines were the first to express an interest.
"We're seeing some interest from the American side, as well," said William Tatham, the port authority's vice president for cruise shipping and marina operations.
To date, SeaWalk has installed four piers, in Norway and Sweden, with one more coming online this year in Norway. The original installation, in 2012 in Skjolden, a small town on Norway's longest fjord, has since been removed, as the town no longer wanted cruise calls.
That demonstrates one of the technology's strong points: flexibility. 
"This type of pier has a very small environmental footprint," said Svein Sleipnes, Caribbean sales director for SeaWalk. "If you want to move it somewhere else, you can also do that. It's not an installation like a pier that is there forever. It is mobile."
Another advantage, Sleipnes said, is time.
"From contract to completion, it's only about 12 months, because the pier is built at a shipyard," he said. "Then it is put on a semi-submersible barge or a ship and installed on site. So the time spent on site is a few weeks to get everything up and running."
Cost is also a plus. The pier in Port Royal will cost about $8 million, which Sleipnes said "is a lot less expensive ... than installing a standard pier."
Although it can be used in different configurations, the SeaWalk basically works like a folding ruler on pontoons. Segments connect at joints. There is a diesel generator on the pier, and hydraulics extend it into the water. At the end is a steering unit with a 360-degree rotatable propeller.
Ships tie up to mooring buoys or set anchors at safe spots. The pier is then tied to the ship rather than the other way around.
The design is an adaptation of technology that has been used in the oil industry in the North Sea, according to SeaWalk's website.
Sleipnes said there have been more than 300 calls by cruise ships as large as the Norwegian Getaway successfully using SeaWalk.
"It works really well," he said. "It's a great improvement to tendering, if that's the option you have."
Perhaps the biggest selling point for a number of destinations, however, is the low impact on the environment.
That was the case in Jamaica, where schemes to bring cruises to Port Royal always foundered on plans to build a pier.
The port authority's Tatham said, "There was a tremendous pushback, understandably, from the National Heritage Trust. They said there was no way they would support anything that leads to dredging or driving piles or anything like that."
However, Jamaica's prime minister had an interest in increasing cruise calls in Kingston. A survey of cruise lines showed more interest in Port Royal than Kingston proper, Tatham said, so he contacted SeaWalk to see what could be done.
The 750-foot pier at Port Royal will be well away from the sunken city, to protect it. Jamaica expects it to be ready in the first quarter of 2019, with Germany's Aida Cruises identified as the possible first customer.
Sleipnes said the company is talking with several other ports.
"This is the first installation outside of Scandinavia," he said. "Of course, it's a big step for us to be able to take this technology to other parts of the world besides Scandinavia."
One country where the cruise situation is ideal for SeaWalk is Cuba, where several small ports outside of Havana need improved cruise infrastructure at a low price.
Sleipnes said SeaWalk is also a good solution for the growing expedition fleet, which tends to target underdeveloped ports, or even for the industry at large.
"There's about 100 ships being built right now" Sleipnes said. "And pier space has been tight in the past, and clearly this is not going to get any better once you get all these ships in operation."
By Tom Stieghorst, Travel Weekly
Re-posted on CruiseCrazies.com - Cruise News, Articles, Forums, Packing List, Ship Tracker, and more
For more cruise news and articles go to https://www.cruisecrazies.com