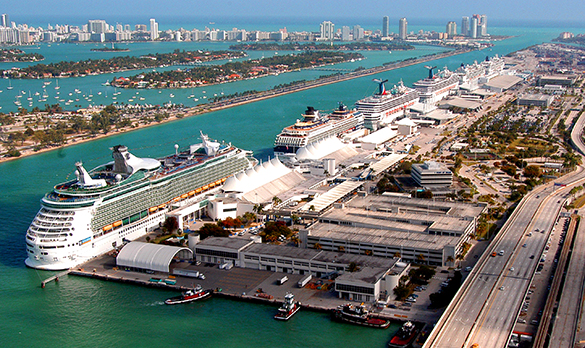 Turns out one of the biggest threats to cruise ship passengers at the Port of Miami were security guards hired to protect them.
Jean Russell Thomas, 30, and Sherece Nelson, 25, were arrested after police uncovered their practice of stealing iPads and other electronics from passengers and then selling the stolen goods.
Police began investigating September 2 when a passenger on the Carnival Victory complained she hadn't received her bags in her cabin. After a delay, the luggage showed up, but while she was unpacking, she noticed her iPad was missing.
A review of security footage revealed Thomas handling the bag in question. He was on duty that day working an x-ray machine. Footage shows him taking the bag off the conveyer built and then placing an object into the rear of his pants underneath his shirt.
On September 5, police found a Craigslist posting that Thomas had placed advertising the sale of two iPads, one of which matched the description of the one missing from the passenger.
An undercover officer arranged to buy the iPad for $450. Nelson, another Port of Miami security officer, showed up at the transaction to act as a lookout.
Both were arrested on the spot.
An iPod Touch that had been reported stolen from a passenger in February was also found in Nelson's car.
By Kyle Munzenrieder, Miami New Times
For more cruise news & articles go to http://www.cruisecrazies.com/index.html
Re-posted on CruiseCrazies.com - Cruise News, Articles, Forums, Packing List, Ship Tracker, and more