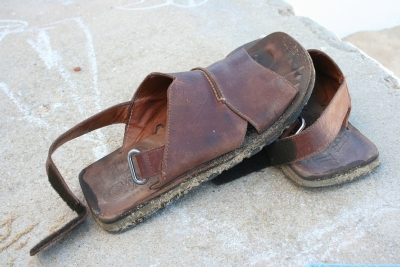 The summer season has been here for a few months, and just like our clothing choices, our footwear choices have undoubtedly changed as well. Now's the perfect time to wear sandals that display your beautiful, delicate feet and allow your feet to breathe, and it sure feels heavenly to walk around in sandals instead of bulky or clunky boots and footwear! But if you would like to ramp up your footwear choices and would like to make the most out of the season by wearing the best leather sandals, here's a look at some ever-popular leather sandal styles for the summer season.
Slides
Slides have always been a popular choice for both men and women, and most of us may already have a reliable and dependable pair of slide sandals in our closets. And if you wear them often during the hot summer months, it's best to have more than a few pairs available so you don't wear them out. Slides can come in different forms and styles, which makes them quite versatile for a day at the park or beach, lunch with your friends, or a birthday party or gathering. The term 'slides' is literally just that – footwear that you can 'slide' onto your feet without the need for any lacing or the strapping of buckles. Slides are practical, and you can opt for slides in different styles such as Jesus shoes or sandals that are great for a day of walking. And since they come in different styles and designs, you can pair them with pants or slacks, a skirt, shorts, and more. For the ladies, slides go beautifully with a flowing caftan or skirt, and you can make a definite fashion statement if you go for a beautiful, elegant, and classic pair.
Flip flops or thongs
Flip flops are another summer staple in leather footwear, although they can also come in canvas or other synthetic materials. But leather flip flops are simply much better than other materials because they are immensely comfortable yet still casual. Flip flops are quite versatile as people of all ages can wear them, and they are especially popular if you're spending time at the beach or boardwalk. And while flip flops are usually seen at beach barbecues, clam bakes, beach parties, and the like, you can even wear them at more formal events such as beach weddings, especially if you choose leather ones. The classic flip flop is here to stay, so the more pairs you have for both formal and casual occasions, the better.
Athletic leather sandals
There are also athletic leather sandals that are perfect for the more active types, and if you think your feet require a bit more support than is given by a pair of flip flops or slides, then athletic leather sandals are for you. These types of sandals are ideal if you will be doing a lot of walking or even hiking because they can provide you with additional support for your heels and ankles, and they usually come with straps that you can buckle up as well.
There are other leather sandal designs and styles from which you can choose, particularly if you want something to mix and match with your wardrobe. And with the right pair of sandals on your feet, you can definitely enjoy the season and make the most of the precious time you spend outdoors!
Image attributed to Pixabay.com
Edited by Jason