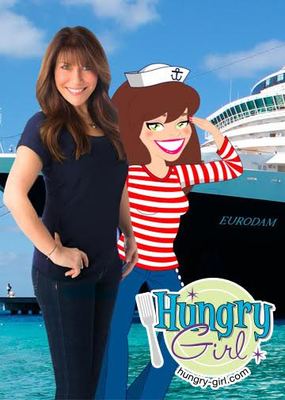 This highly anticipated weeklong event will be packed with exclusive parties, life-changing presentations, and more. Fans will learn firsthand how to lose weight and keep it off forever, all while cruising the Eastern Caribbean with Hungry Girl Lisa Lillien herself!
As the creator of the Hungry Girl brand, founder of hungry-girl.com, and author of eleven New York Times bestselling books, Lisa Lillien has devoted her entire career to helping people eat the foods they love and still fit into their pants. Nearly 3 million email subscribers and social media followers eagerly await Hungry Girl's recipes, food finds, and tips & tricks each weekday! And eleven super-successful nationwide book tours have shown that fans are always hungry to hear Lisa's real-world healthy-eating advice straight from the source. A Hungry Girl vacation led by Lisa herself is the next logical step.
The Official Hungry Girl Cruise promises to be a unique travel experience that's equal parts motivational, informative, revitalizing, and FUN!
Want to know more? Here are the top 5 reasons to book the Hungry Girl Cruise today!
1. You'll learn how to lose weight and keep it off... for GOOD.
This incredible experience can truly help you reach your health and weight goals once and for all. Through interactive presentations packed with information and motivation, you'll learn real-world survival strategies that you can use forever. It's more than a vacation; it's an investment in yourself!
2. It's two vacations in one: A luxurious Caribbean cruise PLUS a life-changing Hungry Girl experience.
In addition to the Hungry Girl events, you'll enjoy all the luxuries of a state-of-the-art cruise ship (spa, restaurants, shopping, casino, live entertainment, and more) and spend time on some of the most beautiful islands in the world (Turks & Caicos, Puerto Rico, St. Thomas, and Bahamas)!
3. You'll get face-to-face expert advice from Hungry Girl Lisa herself. (Plus, you'll get to hang out with her all week long!)
Lisa will be on board for the entire cruise, and she'll personally lead each and every Hungry Girl event. There will also be one-on-one opportunities and Q&A sessions to address specific struggles. Plus, morning workouts by the pool, exclusive parties, games, raffles, and more.... all with Lisa and some special guests!
4. It'll be easy to eat smart on this vacation... Hungry Girl recipes will be served daily!
The chef will be whipping up Hungry Girl entrées every single day on the cruise. And (of course) calorie counts will be provided! We'll also be dishing out smart-eating advice for the entire vacation -- from the best buffet options to my top picks at the specialty restaurants.
5. It's perfect for a girls' trip OR a family vacation.
Get a group of friends together for the trip of a lifetime! There will also be plenty of family-vacation fun to be had, and discounted rates are available for family members not attending the HG events. Spouses and kids can enjoy everything that the ship has to offer while you're getting your Hungry Girl on!
For more information about the Official Hungry Girl Cruise, visit cruise.hungry-girl.com.
Edited by Jason