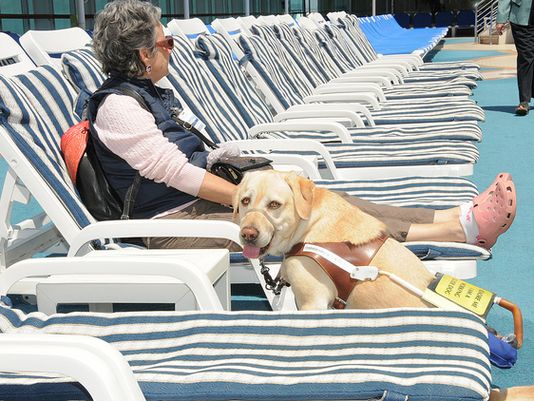 A dog getting on a cruise ship attracts a fair amount of attention from fellow cruisers both for the unexpectedness and rarity of the occasion. On most cruise ships the only dogs allowed are trained service dogs, hard at work. Cunard is the only line that allows pets, and then only on transatlantic sailings – the animals staying in shipboard kennels.
So no, Fido can't come along and hang out in your cabin. But if he's a service dog or traveling with you transatlantic, here are the details.
Cruise lines outline their special rules regarding service dogs on their websites. The dogs stay with the passenger throughout the cruise. Ships have special lifejackets for the animals (though supplies may be limited), and passengers are required to make sure all vaccinations and paperwork are up to date, including for all destinations visited.
A couple of years ago Princess Cruises showed its service dog-friendliness by hosting a group of 25 new graduates from Guide Dogs for the Blind and their owners onboard the Sea Princess for a day.
Princess provides amenities for service dogs, including bowls of water in the dining room and relieving boxes with cedar chips, plus reserved seating in the Princess Theater for passengers with service dogs. During a cruise, passengers and crew are also invited to meet the dogs during a designated playtime.
Royal Caribbean, as another example, provides four-square-foot relief areas with cypress mulch to accommodate service dogs, and on sailings from the U.S. may also be able to provide sod if ordered in advance.
The ships are not required to provide food or care for the dog. Passengers are advised to give a ship at least 60 days notice if they plan to bring a working dog onboard.
In regard to transatlantic cruises, passengers heading from New York to Southampton, UK or visa versa, on the Queen Mary 2 can bring along a pet, for a fee of several hundred dollars. But your pooch stays in a kennel, not in your cabin (service animals being an exception). The dog's vaccines have to meet the requirements of the UK's Pets Travel Scheme (PETS).
A full-time Kennel Master is in charge of shipboard facilities, which include 12 spacious spaces for dogs and cats and outdoor walking areas (with ocean views, no less). Passengers can spend time with their pet in the restricted areas.
Pampering for your pooch includes a complimentary gift pack (with such treats as a QM2 logo coat, a name tag, a Frisbee and even a special "crossing" certificate) and such amenities as homemade biscuits and a choice of bedding. Food is provided, but guests can choose to bring their own.
Cunard kennel reservations need to be made at the same time as human booking, and are based on availability.
By Fran Golden, Special to USA Today
For more cruise news & articles go to http://www.cruisecrazies.com/index.html
Re-posted on CruiseCrazies.com - Cruise News, Articles, Forums, Packing List, Ship Tracker, and more