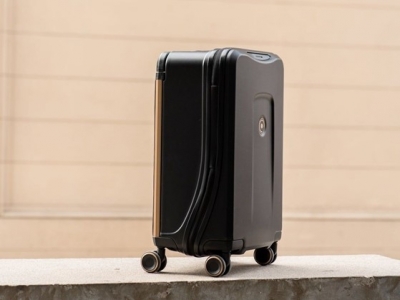 Technology has impacted many facets of society, but the travel industry is arguably reaping the rewards more than most. Robots are taking over luggage duties, you can view potential destinations using a VR headset, and we're able to use our smartphone devices to host plane tickets. Travel gadgets have become an extremely popular option for the average holidaymaker too, with some products more than suitable for a cruise holiday.
Before finalising a memorable cruise trip with an agent or operator, holidaymakers are assessing a variety of gadgets they might need to help make a trip go more smoothly. Some products provide entertainment while relaxing on a sun lounger, while others might help menial tasks go more smoothly while onboard. The options are vast in today's technology-based world as a variety of brands aim to tap into what is a highly lucrative market.
Ahead of your next cruise holiday, here is a look at some of the most popular travel gadgets to consider.
Plevo The Runner
A smart travel suitcase, Plevo The Runner will prevent any overweight fees thanks to its weight sensors which make sure it isn't heavier than what you're allowed to take onboard. Plevo The Runner also features a smart lock to open your Plevo with Face ID, Touch ID, and Morse code. It also houses a battery pack so you can charge any electronic devices. You can remove the wheels, too.
Osmo Mobile 2 Handheld Smartphone Gimbal
Capturing memorable holiday footage can be a tough task, particularly in occasionally tough conditions while out at sea. In order to keep your phone steady, consider investing in an Osmo Mobile 2 Handheld Smartphone Gimbal. With the powerful smartphone devices of today capable of not only sending emails and hosting games based in the jungle, like the Secrets of the Amazon Slot at Mansion UK, but also more than up to the task of capturing memorable holiday snaps, all you need is something to hold it still. The Osmo Mobile 2 Handheld Smartphone Gimbal has built-in controls which rotate a smartphone in a sweeping motion, it's easy to use, and you'll avoid any shaky or blurry shots.
OVO Travel-Size Iron and Steamer
Some cruise ships might take care of your clothes for you, but those that don't mean that taking a miniature device like the OVO Travel-Size Iron and Steamer is a necessity. Capable of keeping any creases and wrinkles out of your clothes, it works extremely well and only weighs 1.6lbs.
Sonos Roam portable speaker
Whether you're keen to listen to some tunes while relaxing around the pool or need a speaker so you can play an audiobook before bed, the Sonos Roam portable speaker is a fantastic option. Small and compact in size, it comes with support for AirPlay 2, Alexa, and Google Assistant. It also features an auto Wi-Fi and Bluetooth switching function and can be charged using a USB-C cable, an optional wireless base, or any Qi Charger. Serving up excellent sound too, the Sonos Roam portable speaker is a brilliant speaker.
Keurig K-Mini Plus
Sometimes the coffee on a cruise ship just doesn't cut it, especially for any coffee connoisseurs among us. Fear not, the Keurig K-Mini Plus has you covered. A portable coffee maker, it's tiny in size and produces fresh coffee from K-Cup pods in just a few minutes. It's also easy to fill and clean, and it holds any cup size from six to 12 ounces. 
Other gadgets worth exploring are the Rohm Portable White Noise Sound Machine, the Canon PowerShot ZOOM, and the Fire HD 8 Tablet.
Edited by Jason