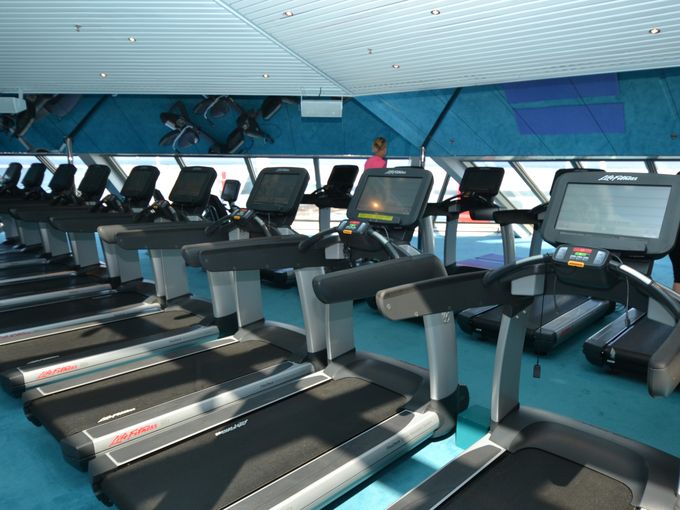 As you partake in holiday festivities and make New Year's resolutions about losing weight and hitting the gym, be aware that despite their reputation for over-the-top indulgence, cruise ships are actually good places for losing weight (if you can resist temptation and stick to low calorie menu options) and staying fit.
Today's big ships have complimentary, state-of-the-art gyms that in some cases rival those on land — with the bonus of ocean views. But gyms are just the beginning of the get-fit craze at sea.
On the newest Norwegian Cruise Line ships, fitness addicts can go wild with college-size basketball courts, Spider Web climbing cages, bungee trampolines and rappelling walls (on Norwegian Epic). Indoors, the line offers such nouveau offerings as TRX Suspension training, Black-Light Spinning classes and even the opportunity to do an interactive Nexersys workout against an avatar.
Royal Caribbean's Voyager-, Freedom- and Oasis- class ships were created for get-active types with such iconic features as ice skating rinks, rock climbing walls, surf simulators and even in-line skating tracks, plus land-like gyms. Depending on the ship, you may also see a Kinesis Wall (which looks like a torture device but provides a gentle workout) and/or a real Everlast boxing ring.
To supplement their expansive gyms, Carnival Cruise Lines has added a SportSquare to the top decks of Carnival Magic, Breeze and Sunshine. The SportSquare features a ropes course, jogging track, outdoor weightlifting and outdoor exercise machines so you can do an entire workout while looking at the sea (equipment varies by ship).
Princess Cruises was the first line to offer Zumba fitness classes at sea, and there are several classes offered per cruise. Other options include TRX Suspension classes and Tour de Cycle, a spinning course themed on the Tour de France. You can also get a workout on the jogging track — which on the new Royal Princess has two lanes and boasts an outdoor exercise circuit alongside.
On select Crystal Cruises, passengers can do Tai Chi with a master or practice golf swings with a PGA pro. With the line's WOW (Walk on Water) program you can burn calories walking while wearing a weighted vest for resistance. Crystal Cruises also offers special Mind, Body and Spirit theme cruises, on which the workout offerings increase to include guest instructors and speakers on fitness topics.
Seabourn's posh environs make fitness buffs happy with classes and private sessions on Kinesis Wall setups (on the line's Odyssey-class ships). For passengers who love the water, a great workout can be had by using the ship's drop-down marina for kayaking, sailing, snorkeling or swimming, among other activities.
On the ships of Celebrity Cruises, passengers will find some of the nicest spas and gyms at sea, in addition to such offerings (on the Solstice-class ships) as Gravity Reformer classes, where you "drive" a glideboard using your own weight. Celebrity ships also have a variety of Zumba classes, including Aqua Zumba in the pool.
Gyms are a rarity in the world of river cruises, but you'll find them on Avalon Waterways' newer ships such as the Avalon Expression. The spaces aren't large, but they have enough equipment for a decent workout. Next July, the line will host a European Wellness River Cruise on the Danube, with special classes and healthy lifestyle lectures.
Cunard's Queen Elizabeth offers a resistance workout that involves walking around the deck wearing a weighted vest and provides the opportunity to stretch out while lawn bowling. For something different, sign up on the Cunard ships for fencing lessons.
There are gyms onboard Windstar's ships, but the main fitness attraction for the line is water activity, which you can partake of right from the ships' own watersports platforms. Options include kayaking, windsurfing, waterskiing and more (the Wind Surf even has a water trampoline).
By Fran Golden, USA Today
For more cruise news & articles go to http://www.cruisecrazies.com/index.html
Re-posted on CruiseCrazies.com - Cruise News, Articles, Forums, Packing List, Ship Tracker, and more