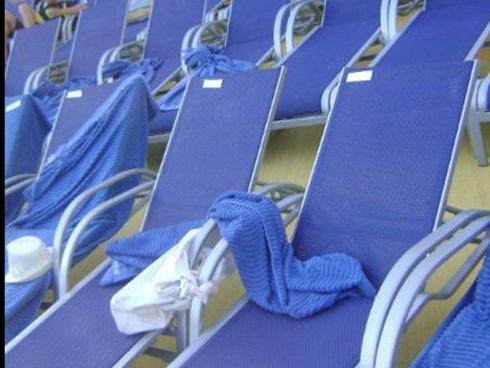 Are you frustrated with cruisers who "save" deck chairs in prime locations for hours at a time without using them? So, apparently, is industry giant Carnival. The world's largest cruise line this week began testing a new policy designed to rein in the practice -- a source of frequent shipboard complaints.
Top Carnival cruise director John Heald announced Monday on his Facebook page that staffers on the line's new Carnival Breeze have begun policing seat saving by placing stickers with the current time on any deck chairs that are being saved with towels, books, shoes and other passenger items.
After 40 minutes, if the chair still is reserved but unoccupied, the staff will remove the items and take them to the towel station by the main pool, Heald says. The staff will leave a note explaining what they have done.
On many mass-market ships, it's not uncommon to see early risers placing personal items on entire rows of deck chairs near pools and other deck-top attractions even though they don't plan to use the chairs for hours. As a result, later rising passengers often are unable to find an open seat.
"It has been a subject discussed over and over again, and it has been so because it continues to be a concern," Heald notes. "We went with 40 minutes as we felt that this was a fair amount of time if guests get up to eat, drink, pee, swim or slide."
Heald, who is aboard the Carnival Breeze, says the new policy eventually will roll out fleetwide.
"Once we finish the test here this cruise and next, we will make adjustments and then add to the rest of the fleet," he says.
Cruise Loggers, what do you think of the new policy? Share your thoughts below.
By Gene Sloan, USA Today