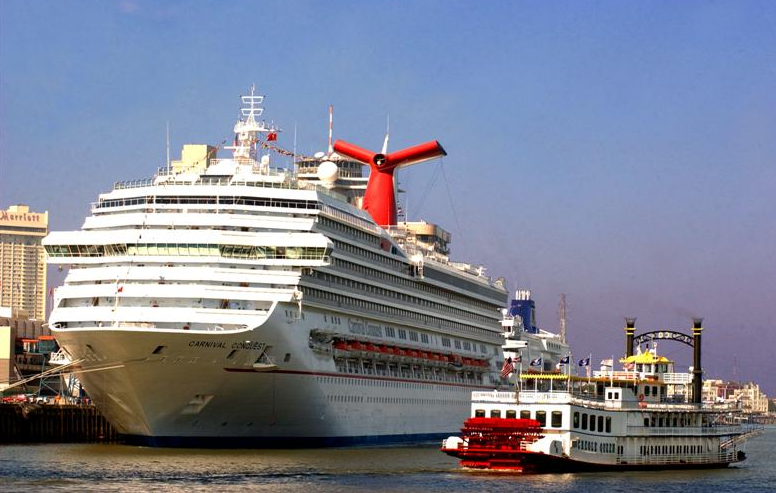 Carnival Cruise Lines recently signed a three-year extension of its berthing agreement with the Port of New Orleans, which will keep two Carnival cruise ships sailing year round from New Orleans through at least Feb. 12, 2016.
"This agreement continues to demonstrate Carnival's commitment to the New Orleans market as a top homeport for its customers," said Gary LaGrange, Port President and CEO. "Carnival is a valued partner for the Port and for the City and we look forward to continuing to build upon our past success."
The agreement officially commenced on Feb. 13, 2013 and runs through Feb. 12, 2016 with two, one-year options to extend the agreement.
"Carnival Cruise Lines currently carries 340,000 passengers annually from the Port of New Orleans, which consistently ranks as one of the most popular homeports among our guests," said Gerry Cahill, Carnival's president and CEO. "This agreement builds upon our outstanding relationship with the Port and the New Orleans community and we look forward to continuing to sail from such a highly rated and attractive homeport," he added.
"We are grateful to Carnival for their long-term commitment to New Orleans, which is another milestone in an exciting time for our City's $5 billion tourism industry," said Kim Priez, Vice President of Tourism for the New Orleans Convention and Visitors Bureau. "We promise Carnival the CVB's continued support as we attract cruise passengers to enjoy two vacations in one."
Carnival currently has two ships home-ported in New Orleans year round sailing from the Port's Erato Street Cruise Terminal. The 2,974-passenger Carnival Conquest sails seven-day eastern and western Caribbean itineraries, while the 2,052-passenger Carnival Elation sails four- and five-day cruises to Cozumel and Progreso, Mexico. Beginning in November 2013, New Orleans will become the homeport for Carnival Sunshine, which will have undergone an extensive $155 million refurbishment that will add a wide variety of dining, bar and entertainment innovations and spectacular top-deck amenities.
A recent study by Cruise Lines International Association found the cruise industry accounted for $280 million in direct spending in 2011, up 35 percent compared to 2010. The study also found the industry generated 5,512 jobs and $211 million in income in Louisiana.
A study commissioned by the Port in 2011 found cruise passengers in New Orleans stay an average of 1.8 nights in area hotels either before or after their cruise and spent another $27.9 million on lodging, food, beverage and incidental spending.
For more cruise news & articles go to http://www.cruisecrazies.com/index.html
By Cruise Industry News
Re-posted on CruiseCrazies.com - Cruise News, Articles, Forums, Packing List, Ship Tracker, and more