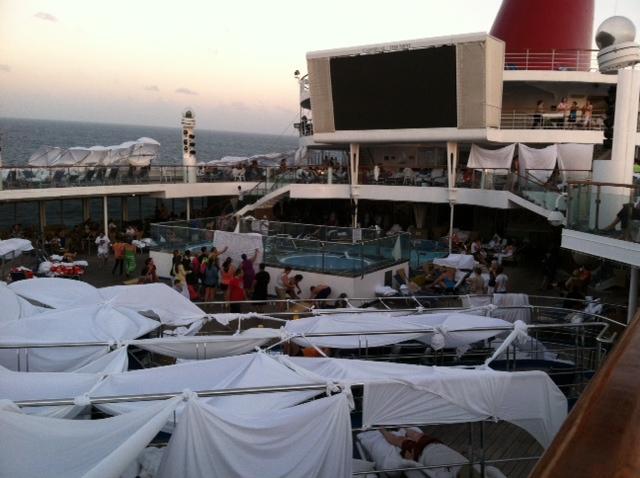 A Dallas realtor told a Royse City Rotary Club audience that she likes talking about her experiences aboard the Carnival cruise ship that was disabled 150 miles off Southern Mexico's Yucatan peninsula last month after an engine room fire.
"I like talking about it because I like people to hear the true story," Vicki White, brother of Royse City Rotarian Tom Shelton, told club members Thursday morning.
"It was an experience I will never forget," White said. "It brought out the worst in humanity, but they were few and far between. Believe me, the best of humanity far prevailed.
"I think the cruise line did a great job and I'll go again. This was my first cruise. I'm a scaredy cat, but I think it was handled well."
The cruise ship set sail from Galveston on Feb. 7 and was due back on Feb. 11. An engine room fire on Feb. 10 left the ship adrift in the Gulf of Mexico. Tugboats dragged the vessel to Mobile, Ala., on Feb. 14.
White talked about life aboard the ship without running water, working toilets and electricity. She told of some "very scary" times, once when she and her two friends got on their knees and prayed, thinking they would soon end up in lifeboats. And she told Rotarians that the stories they heard about the lack of food "are so wrong."
There was "a lot of exaggeration or out-and-out lies."
White said she knows about "listing" a home for the real estate market. But she learned a new definition while on the cruise. "List" is a nautical term defined as a vessel's angle or tilt to one side.
"We listed a lot," White said of the ship's motion.
White said a tugboat arrived 24 hours after the ship became disabled.
Passengers were told it would take the tugboat 48 hours to drag the ship to Progresso, Mexico.
White said she and her friends faced their most fearful moments after the Triumph was hooked up to the tugboat.
"We were headed this way," she said, pointing.
"We needed to be heading this way," she said, pointing in the opposite direction.
While the tugboat was slowly turning the big ship, it listed so far that water touched the bottom of the lifeboats. The lifeboats, she said, were on the ship's third or fourth level.
"We literally got on our knees, my girlfriends and I, and prayed," White said. "We had our lifejackets out and we had put on our jewelry. We went to the safe and said, 'What must we have?' You find out pretty quick what's important to you."
She decided against putting on a bracelet.
"If I have to swim, I don't want anything to snag," she said of her jewelry choice. "I want my arms free. I put on a couple of rings and that was it. Left everything else in the safe and didn't worry about it."
It took all night, White said, but the ship finally was turned to the right direction.
White said she can't understand why some passengers are telling horror stories about food shortages.
"We ate very well," she said.
She pointed out, however, that food service the first two days was not organized. Passengers served themselves and there were people who were hoarding food. Getting through the food line took three hours, she said.
White said she got so hungry the second day that she grabbed a discarded hot dog. It appeared that someone had taken one bite of the hotdog. She "broke off the bite," White said, and ate the rest of the wiener.
"Once the cruise ship started taking over serving the portions themselves, lines went fast," White said. "There was plenty of food. We had everything from grilled chicken, to steak, to chocolate mouse, to cake and fruit, and bagels and cream cheese, eggs and sausage.
"So, all this stuff about living on pickles and onions, it's just a lie. I mean, we all ate at the same place."
The crew tried to entertain the passengers, she said. And they all pitched in to help.
She said the women who did facials and massages went out on night security patrols. The man who was the headliner at the ship's comedy club grilled chicken. And the entertainers who performed in the Broadway show served meals.
"Everybody was working," White said. "Everybody on the crew was doing something. Passengers volunteered, but they (crew members) said, 'We've got it covered.' They always had a smile on their faces no matter what."
Many of the passengers tried to make something good out of a bad situation. She told about the passengers from the ship's lower levels who moved up to the lido deck. Using bed sheets, she said, they started "tent city.
"I'm telling you those people had a ball," she said. "They didn't want to be there, but in some of these big group tents, they elected HOA (homeowners association) presidents. They had rules. If you snored, you got kicked out. They were just making the best of it."
What bothered her most, she said, was the lack of communication.
"I mean we had no way to communicate with anybody," White said. "I had four closings y'all. I had to tell clients I wouldn't be there. And nothing worked."
As the ship approached Mobile, she said, "people lined up all along the shoreline looking at us." And when they finally arrived and saw "thousands of media, we were just blown away."
When cell phone service was restored, she called her husband. She told him the plan called for them to ride a bus to New Orleans, where they would board an airplane bound for Houston.
From Houston, they would ride another bus to Galveston, where they would get their car and drive home.
She said her husband, a pilot, flew to Mobile.
"We were literally the first ones out of Mobile," she said. "I was home to watch the ship disembark."
For more cruise news & articles go to http://www.cruisecrazies.com/index.html
By Jim Hardin, Herald-Banner Staff
Re-posted on CruiseCrazies.com - Cruise News, Articles, Forums, Packing List, Ship Tracker, and more