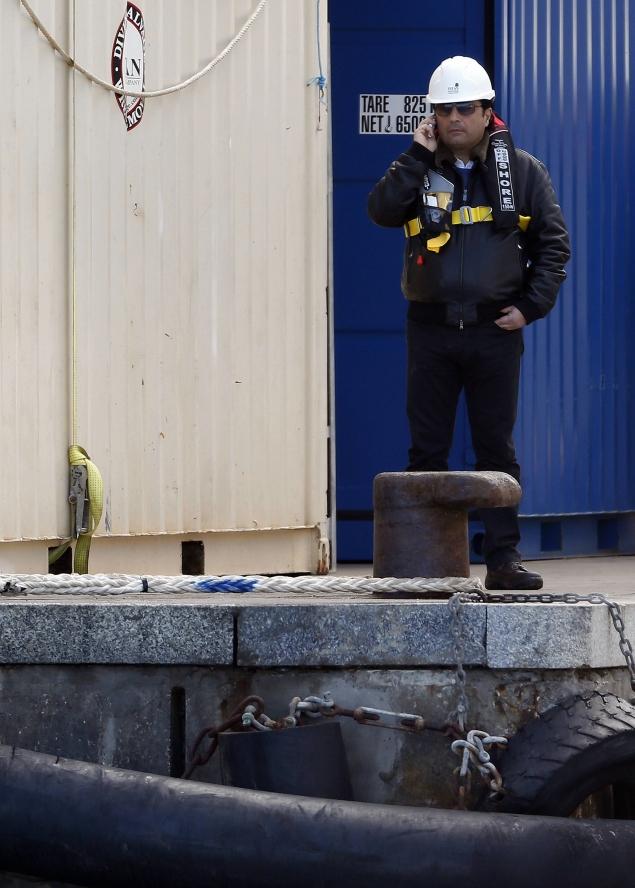 The captain of the Costa Concordia, Francesco Schettino, went back on board on Thursday for the first time since the huge cruise liner sank with the loss of 32 lives just over two years ago, accompanying experts investigating the capsize.
The twisted wreck of the 1,000-foot-long ship, now stabilized after a complex salvage operation last year, sits propped up on underwater platforms just outside the port of Giglio, the island off the Tuscan coast where it capsized on January 13, 2012.
Schettino, who faces multiple charges including manslaughter, causing a shipwreck and abandoning ship, went aboard the vessel with a expert team appointed by the court but is only present as a defendant and is taking no active part in the investigation.
Residents of Giglio, a tiny island that lives off tourism, are impatient to see the wreck towed away and reaction to Schettino's visit was largely "indifferent", the mayor of Giglio, Sergio Ortelli said.
"I don't why he wanted to come here, maybe to see things," said Ariento Italo, a resident. "I just don't know what he is going to do - he will see things that he already knows and anyway everything is all smashed up."
However, his lawyers say the investigation will be able to ascertain whether the ship's equipment was working correctly or whether malfunctions caused the incident or worsened conditions during the chaotic nighttime evacuation of the ship.
"We've been asking for these checks for two years," said Domenico Pepe, one of Schettino's defense team. "If the generator had worked properly nothing would have happened. Without the generator, the rudder, the lights, the doors, the pumps and the lifeboats didn't work."
It is the first time Schettino has been aboard since the 114,500-ton Concordia, carrying 4,229 passengers and crew, struck a reef while performing a display maneuver in which it came close to shore to "salute" the port.
Stripped of his maritime licence, Schettino is the only person on trial after four crew members and an official of the ship operator Costa Cruises were sentenced to terms of up to 34 months in prison after pleading guilty last year.
He has admitted that he bears responsibility for the accident as the ship's captain. But he says that he is not the only person to blame and has pushed for the vessel to be examined for evidence of possible technical faults.
However the investigation has already been clouded by allegations that two officials of the ship's owners, Costa Cruises boarded the wreck without authorization. A separate probe has been opened into the two.
By Reuters
For more cruise news & articles go to http://www.cruisecrazies.com/index.html
Re-posted on CruiseCrazies.com - Cruise News, Articles, Forums, Packing List, Ship Tracker, and more