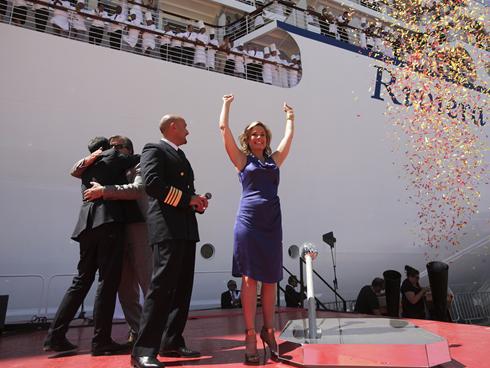 BARCELONA -- Celebrity chef Cat Cora has yet another new child: A 66,000-ton cruise ship.
The Iron Chef star and mother of four boys today served as the godmother in a christening ceremony for Oceania Cruises' second new vessel in just over a year, the 1,250-passenger Riviera.
"I must say as a mother of four, finally, I have a girl!" Cora quipped from a stage during the Catalan-themed event, which took place along the Barcelona waterfront.
In addition to her children, Cora spoke of her wife and mother, who were in the audience, and then choked up when remembering her father, Spiro, who died last year.
Cora also talked about her appreciation for Oceania, which is known for a focus on food and fine dining. Riviera and its 1-year-old sister ship, Marina, feature six upscale eateries each and Bon Appetit-branded culinary centers that are billed as the first hands-on cooking classrooms at sea.
"I feel like I share so many of their values: loyalty, friendship and excellence, as well as the best of travel, food and wine," Cora said.
The invitation-only ceremony, which came just two days after the premiere of Cora's new show on Bravo, Around the World in 80 Plates, culminated with a nebuchadnezzar of Veuve Cliquot champagne crashing against the hull of the ship.
The event included a speech by Oceania founder Frank Del Rio, who was introduced as a "larger than life" figure by Oceania president Kunal Kamlani.
"I lost 20 pounds for this day, and yet he still thinks I'm larger than life," joked a recently trimmed down Del Rio after taking the stage.
Del Rio, who now is chairman and CEO of Oceania's parent company, Prestige Cruise Holdings, noted that the company's first ship, Regatta, also was christened in Barcelona in 2002.
"From my perspective, this industry hasn't been the same since," Del Rio told the audience of leading travel agents from around the world, local dignitaries and Oceania investors.
Riviera is the second ship Oceania has built from scratch. The line's two other vessels -- the 684-passenger Regatta and Nautica -- sailed for the now-defunct Renaissance Cruises before joining the Oceania fleet.
Riviera sets sail tonight for Venice, where it will begin its maiden voyage -- a 10-night trip to Croatia, Greece and Turkey -- on May 16.
By Gene Sloan, USA Today