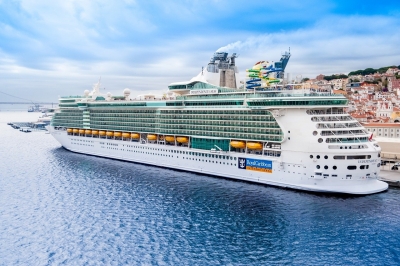 Royal Caribbean International will not require passengers to be vaccinated on cruises launching this summer in Florida and Texas, reversing a policy that guests eligible for the vaccine must have it. 
"Guests are strongly recommended to set sail fully vaccinated, if they are eligible," the cruise line said in a statement. "Those who are unvaccinated or unable to verify vaccination will be required to undergo testing and follow other protocols, which will be announced at a later date."
Royal said that its entire crew will be fully vaccinated. 
Royal made the change when it revealed the launch of six ships this summer from ports in Florida and Texas in July and August, with the first revenue sailing departing July 2 on the Freedom of the Seas. The line did not say whether the change is in response to the Florida law that prohibits companies from requiring proof of vaccination from customers. Businesses can be fined $5,000 per violation. 
Royal passengers sailing to Alaska this summer who are 16 years of age or older still must be fully vaccinated, and those 12 or older as of Aug. 1. 
Royal Caribbean CEO Michael Bayley said that the vast majority of Royal Caribbean passengers are getting vaccinated. 
"Thanks in large part to the successful rollout of vaccines, the world of adventure is beginning to open up, and we are all excited to start delivering great vacations to our guests, who have increasingly told us they are getting vaccinated," Bayley said. "As of today, 90% of all vacationers booking with Royal Caribbean are either vaccinated or planning to get vaccinated in time for their cruise."
__________________________
SOURCE: Travel Weekly (Johanna Jainchill, June 5, 2021); Photo Credit: Royal Caribbean Cruise Line
Re-posted on CruiseCrazies.com - Cruise News, Articles, Forums, Packing List, Ship Tracker, and more
For more cruise news and articles go to CruiseCrazies.com