Counting Down my Top 10 Travel Moments of 2012!
Entry posted by Jan115 ·
1,227 views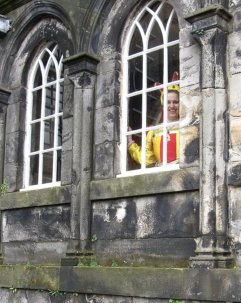 I couldn't move ahead to a new year of travel adventures without first looking back on my trip experiences of 2012. Most destinations were new to us, and some were old favorites. All were special and memorable. Therefore, in the tradition of David Letterman, I thought I would take this opportunity to count down my own Top Ten travel moments of the year. Wishing you happy and safe travels in 2013!
So here goes - my top 10 favorites of 2012:
#10. Harry Potter and the Forbidden Journey - Harry Potter's Wizarding World, Universal, Orlando
Speeding through the air high above Hogwarts Castle on a broomstick without ever leaving the ground. Now, that's my idea of a thrill ride!
#9. Introducing my Russian friends to New England clam cakes and chowder in Newport, Rhode Island
Friends were in town for the day while aboard the Caribbean Princess and, as a native to Little Rhody, I was proud to give them my personalized 5-cent tour of Newport, including a visit to three of the city's famous stately mansions followed by lunch at Flo's clam shack. Thanks for the memories, Olga & Pavel!
#8. The look of unbridled excitement on my sister-in-law's face as she and my brother embarked on their first-ever cruise aboard the Ocean Princess!
Need I say more!
#7. Being greeted by bagpipers and a wee dram of whiskey (or two!) to Edinburgh, Scotland
Yes - whiskey - at 8 o'clock in the morning. When David asked for another, they were more than happy to oblige. Those Scots are so warm and friendly!
#6. Sunset over Cape Cod Bay - Truro, Massachusetts
As a frequent visitor to the outer Cape, I can honestly say there is no finer place to see the setting sun - or rising sun, for that matter. It's the closest thing to heaven on earth!
#5. A pint of Guinness in a small town Irish pub - Inistioge, Ireland
Who can forget this image of my husband, David, drinking a pint of Guinness in a local pub with his newfound friend, Patty.
#4. Cruising up the coastline of Ireland and Scotland
I'll never forget the rolling green hills of Ireland and the rugged beauty of Scotland as we sailed up and around the Isles. Literally took my breath away!
#3. Canterbury Cathedral - Canterbury, England
A magnificent, medieval holy place, famous for the murder of Archbishop Thomas Becket in 1170. The cathedral is enormous and stunning, and I could have easily spent the whole day taking in all its glory.
#2. A night at The Agnes Inn, Canterbury
A cozy and friendly traditional English inn. For even more charm, choose a room in the renovated stables. If you only have one night in England, let it be a charming B&B in a quaint, Dickens-like town.
AND .... my Number 1 travel moment of 2012:
A personalized tour with 14 fellow cruise passengers of the Scottish Highlands including the Village of Luss, Loch Lomond, and Stirling Castle by Gordon Ross of Great Scot Tours.
It doesn't get much better than this! Those big cruise line tours would be hard pressed to provide the type of personalized service we received from our private tour guide through the Scottish Highlands. This was by far our favorite day of the entire cruise around Ireland and Scotland on the Ocean Princess. It was impossible to rank one feature of the tour over another for this list, so the whole tour gets the #1 spot!
Here were the highlights from the Highlands tour:
A surprise stop to sample some whiskey on a Highlands hillside. Here's to you, Gordon
Mist over a beautiful peaceful lake, surrounded by rolling hills and mountains, in a storybook village setting. It was a page from a fairy tale!
A stop in the town of Callander for a quick lunch.
The magnificent Stirling Castle and surrounding battle grounds where famous Scots like Rob Roy, William Wallace, and Robert the Bruce fought for their freedom.
There you have it - the Seven Sea Journey experiences of 2012. Safe and happy travels to all my readers in the new year!
For additional photos, please visit: