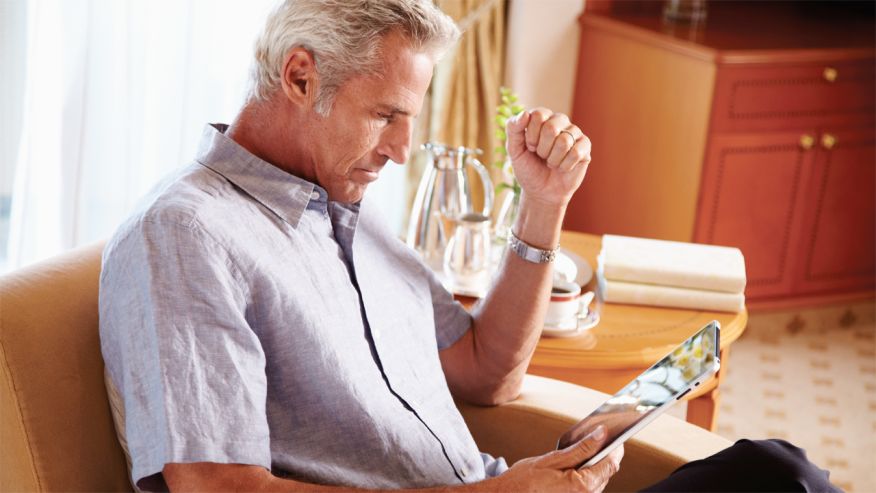 A growing number of upscale cruise lines are beginning to include free unlimited Wi-Fi in the price of a ticket as lines lure customers with the promise of faster, more affordable Internet access.
Luxury line Regent Seven Seas Cruises Wednesday announced on its official blog that it will offer free unlimited Wi-Fi access for every passenger fleetwide starting in late 2016. The new service provides Internet access from any location on the ship via laptop, tablet or smartphone.
Currently, unlimited Internet is free in top suite categories, while other guests get a package of 200 free minutes or more based on voyage length. The luxury line already offers many inclusions such as alcohol, gratuities and round trip airfare.
Most cruise companies are improving Wi-Fi technology to enable passengers to stay connected while on the high seas and to be able share their vacation photos and comments on social media sites. Currently, most lines offer pay-as-you-go packages for Wi-Fi usage, and passengers can easily get caught with a bill for $50 to $100 a day just on Wi-Fi.
But that paradigm is shifting.
In August, luxury line Crystal began offering all passengers a limited amount of free Wi-Fi access per day. USA Today notes that Viking Ocean Cruises, the river cruise company's new ocean ship that promises "no nickel-and-diming" mantra includes free unlimited Wi-Fi for every passenger.
And Silversea and Oceania say they'll soon offer free unlimited Wi-Fi for passengers in top suites, while offering free, limited Internet access for lesser cabins.
But these lines are not the only lines looking to meet the growing demand for faster connectivity at a cheaper price.
Last month, Carnival Corp. announced it is expanding Wi-Fi options with its WiFi@Sea, an Internet access system that charges clients based on how they use the service rather than by the traditional per-minute fees that have dominated the industry for years.
The plans cost from $5 per day for basic social media only access, to $16 per day with access to the web for emailing, social media, and browsing, to the premium service at $25 per day that gives customers full web access, including calling sites like Skype.
The line says the service will be available across most of the company's fleet by the end of 2016.
"We know that each of our guests is looking for something different, whether that is being completely or partially unplugged from the Internet or staying plugged in," said Reza Rasoulian, Carnival Corp.'s vice president of global connectivity and shipboard technology operations.
Last year Skift reported that Royal Caribbean tested free Wi-Fi among 5,000 passengers on voyages aboard Oasis of the Seas and Quantum of the Seas and is looking at offering Wi-Fi while in port.
By Grace E. Cutler, FOXNews.com
For more cruise news & articles go to http://www.cruisecrazies.com/index.html
Re-posted on CruiseCrazies.com - Cruise News, Articles, Forums, Packing List, Ship Tracker, and more