My First Freestyle Cruise Experience !

After 25 cruises it shocked me that I had not yet sailed onboard Norwegian Cruise Line and I knew I was way overdue to experience "Freestyle Cruising." Fast forward a few months, and I find myself on a train racing toward Grand Central Station to Board the Norwegian Escape to Bermuda! Perk number 1 of NCL departing out of Manhattan, it is the most convenient departure port for New Englanders that is a train, bus or car ride away. With the taxi, Uber and  Lyft drop off directly in front of the terminal getting from Port Authority Bus Station or  Grand Central Train Station could not be easier and takes about 10 minutes. Once you arrive at the Pier, your luggage is taken by a porter, and you are through security in about 5 minutes. 
Check-In:


After security things got a little confusing, with lines every which way but little signage that directed me to where we needed to be, however, I believe this was because the Escape was very new to New York, I did find my way and was happy to be so close to boarding. I am very used to a check-in process that is different from Norwegians'. Typically my onboard expense account is set up when I check in online 2-3 weeks before my cruise, with  Norwegian this is not, currently, an option and your expense account is handled at the pier. This lead to noticeable longer wait times to check in and was clear to me that the expense account was the reason for this, especially with chip cards. After the longer than normal check-in process, Thanks to Norwegian, my friend and I were quickly escorted onto the Escape before any other passengers and then the fun began! 
Boarding:
Stepping onto the ship was that same feeling you get every time that feeling of escape, relaxation and excitement for the week that awaits you. The one thing that I was most excited to see was

678 Ocean Place! The hub of the ship did not disappoint, with a marvelous multi-colored Chandelier dangling in the center, I immediately realized that this was going to be my favorite part of the ship!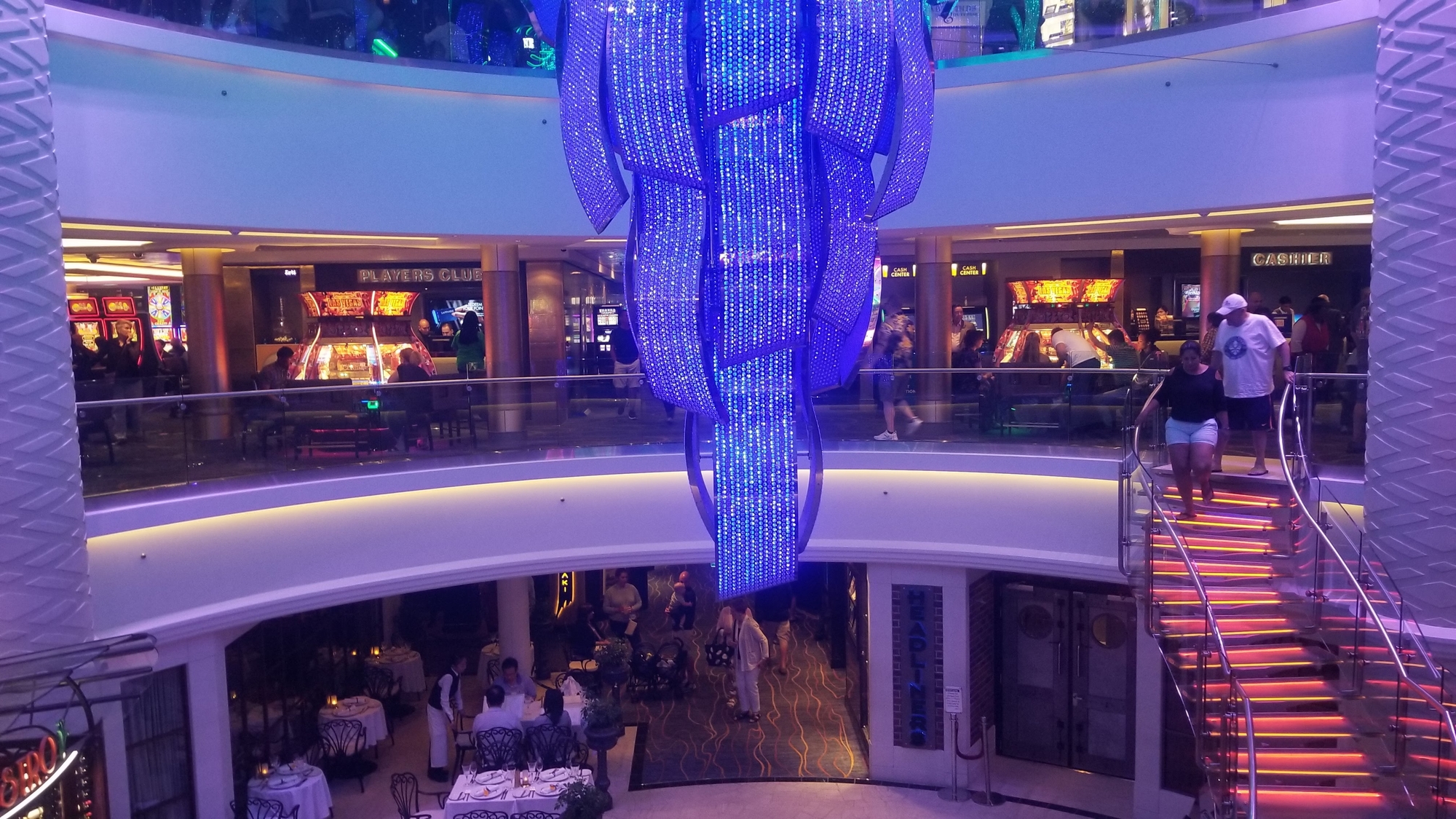 Booking Onboard Experiences:


I have been on quite a few ships that have well over 4,300 passengers and have always been able to make reservations online before sailing. With Norwegian, I realized that there is a significant amount of onboard experience that you can only book once you are onboard. We were lucky enough to be the second people in line and finished booking everything that we needed and even though we just booked three activities it took about 20 minutes for the crew member in the box office to do this and an extremely long line formed behind us, definitely not the way I want to start off  a cruise. So I would make sure this is your first stop when boarding to try and avoid lines! 
Garden Cafe:


The buffet area onboard Norwegian Escape, the Garden Cafe, had a lovely relaxed vibe with hand washing stations at every entrance and a large variety of foods for breakfast, lunch, dinner and late night snacks until 12 A.M! Dinner was a different global influence every night, with breakfast and lunch remaining consistent throughout the cruise! 
Accommodation:


We were booked in a

Family Balcony Stateroom

on deck 9. The stateroom was spacious, had plenty of storage space, a mini refrigerator, hairdryer, television, plenty of outlets included one on each side of the bed and a beautiful view from the spacious private veranda! This stateroom has the capacity of 4 people with a bunk bed that drops from the ceiling and a sofa bed with plenty of room to move around! 
Freestyle dining

was the best, included, dining I have ever experienced on a cruise ship! Being able to choose a different
restaurant and time every night was fantastic. I was expecting a different menu in each restaurant; however, most everything on the menu is the same
in each restaurant, but the atmosphere is different in each one! For those of you who are unfamiliar with "Freestyle Dining," this is how it works. You can make reservations for one of, typically, three "main dining rooms" in this case we had choices of the Manhattan Room, Savor, and Taste. Each restaurant has the same menu and same times, but you can enjoy different atmospheres, times and wait staff every night! So say goodbye to being stuck in one dining room, at the same table, at the same time for the length of your cruise and hello to freedom to do what you like! For those of you who still enjoy the traditional way of dining with the same place, time and waitstaff you can do that too! To ensure you have the same time place and waitstaff every night go to a hostess at the very beginning of your cruise and let them know that is what you want and they will make it work! 
Onboard Activities: 


The Norwegian Escape is the first ship in the Breakaway Plus class of ships, so there are many activities onboard with but unfortunately laser tag and Go Karts did not make it onboard

?

 #firstworldproblem, am I right?)
Waterslides: 


An absolute must try, my only regret was not trying them sooner. The Escape is equipped with two freefall slides and one "Aqua Racer" which is a nice relaxing slide! So you can opt for the exhilaration of the racer slides or the laid back lazy  Aqua Racer slide and have the time of your life on both! 
Ropes Course:


I understand why the Go-Kart tracks have replaced this, it was anti-climatic, at least for adults I can see children from 7-15 enjoying this activity. Is it worth doing, of course, but only once per cruise is fine!
Onboard Entertainment:


While on a cruise that is overnight in a port it is easy to miss the onboard entertainment, but we made it a point to try and get to everything we could! 
The comedy shows onboard were offered almost every night both for families and for adults only. Of course, we chose the adults-only show and we left

Howl at the Moon

exhausted from laughter! The on-stage shows offered onboard Escape currently are, After Midnight and For the Record: The Brat Pack. Both shows are can't miss, it is a bit difficult to follow the story but the talent is OUT OF THIS WORLD do not miss one show! The small shows such as the Newly Wed game and similar shows were typically held in the Atrium, each show was unique and had its distinctive flair. In addition to small shows, you can also see cooking demonstrations, dance classes, cruise ship 101 and more in the atrium daily! 
Disembarkation:


Although this is the worst part of the cruise, regardless if the process is smooth or not we all know smoother disembarkation is preferred over a prolonged wait for the enviable (reality). Disembar
king the Escape was, and I hate to say it, the most unorganized process I have ever experienced. Now I definitely can not place all of the blame on Norwegian because it seemed that customs and the coast guard slowed them down, a lot. So disembarkation was quite horrible, but we were able to get a glimpse of the Norwegian Bliss, so that made everything better! 
The below ratings are based on a 5 "wave" 5 being the best and 1 the worst, and it is waves because why not! These ratings are strictly opinion based and does not necessarily reflect the views of Cruise Ship Crayz TM

. 

Check-in and embarkation: 3 Waves
Some improvement is needed on the organizational side at the Manhattan cruise terminal to speed up the check-in process. Security is quick and Easy! 
Onboard Dining:
Included Dining: 5 Waves
The food onboard the Escape was some of the best-included food I have had at sea in a long time, and of course, the service was impeccable! 
Specialty Dining:
I can not give a rating because I enjoyed the main dining rooms so much I forgot to try one!
Onboard Activities: Solid 4 Waves
The wide variety of activities offed onboard the Escape keep you busy all day, but I didn't get that WOW factor from the activities. 
Onboard Entertainment:  4 Waves
As mentioned above The talent was incredible, but I was looking for more of a storyline, still can't miss shows! 
Accommodations: 5 Waves
We loved our stateroom and attendant, and we had more than enough space to spread out and unpack completely! 
Disembarkation: 2 Waves
Disembarkation was horrendous with people coming from all direction to get in a line that I am still looking for. I would opt for the express walk off! 
Overall I absolutely loved my first Freestyle cruising experience and can not wait to be back onboard a Norwegian cruise ship! I would highly recommend cruising onboard a Norwegian cruise to anyone, especially those with children!